EBOOK
Building a Successful Ambassador Community
Word of mouth is the most powerful & least expensive growth channel. Establishing a brand community allows you to market through your customers, rather than to them. By doing so, you will not only be able to create a stronger and more meaningful relationship with your fans but also achieve your growth goals organically. Use your community as a hub for data and content that will allow you to drive brand awareness and sales.

Learn how to build your very own ambassador community from the ground up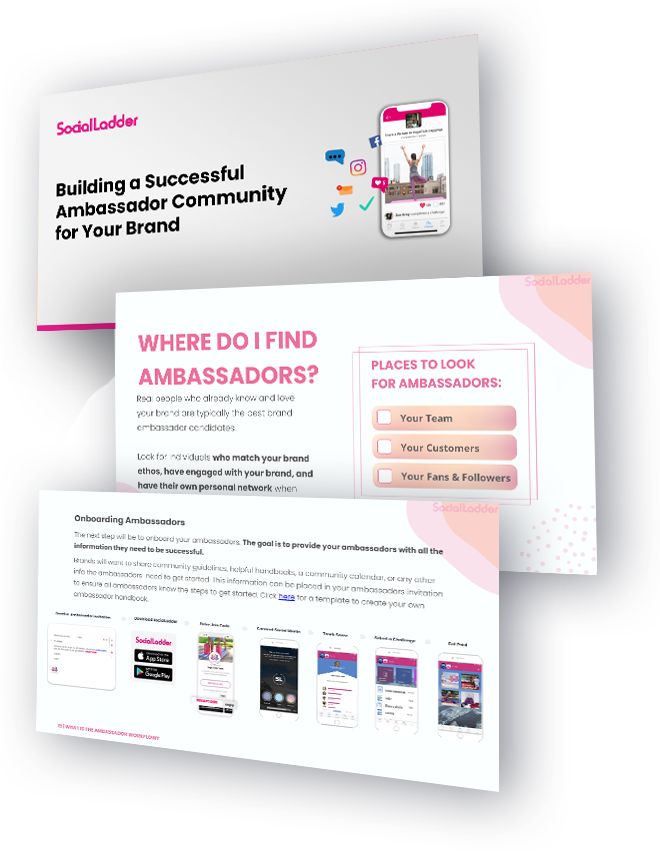 POWERFUL FEATURES
The SocialLadder platform allows you to:


Discover New Candidates
Start marketing through your customers vs to them. Using machine learning, intelligently identify top customers and influencers from your database who will be top performers.
Streamline Communication
Chat, push notifications, interactive message boards, and more give ambassador managers a customizable way to share content & engage with the ambassador community at scale.
Create Accountability
Assign tasks in the real world and online to all users or segments of users. Let the platform handle the tracking so your team can focus on the strategy.
Measure ROI & Scale
Real-time analytics, interactive leaderboards, customizable reports, budget tracking, and more give your team visibility into your team's impact on sales & brand awareness.