EBOOK
How to Recruit Top Ambassador Talent to Represent Your Brand
Finding the right brand ambassadors is key to bringing your brand to life in their world in the most authentic way. Once you've identified your ideal ambassador profile and where you will look for your pool of ambassador candidates, you can begin the process of including your ambassadors in your marketing initiatives to help promote your brand.

Learn how to create your ideal ambassador profile and develop a recruitment strategy.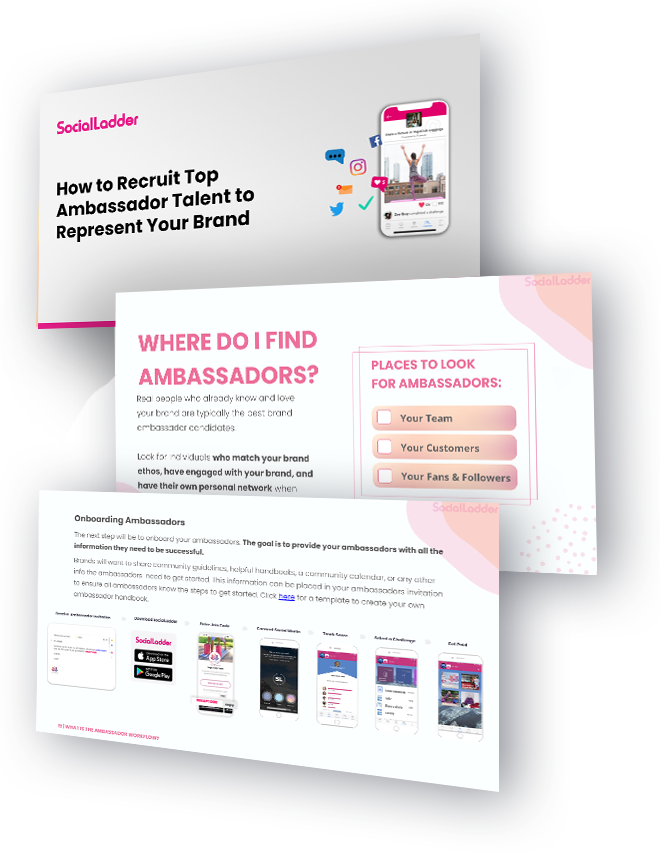 POWERFUL FEATURES
The SocialLadder platform allows you to:


Discover New Candidates
Start marketing through your customers vs to them. Using machine learning, intelligently identify top customers and influencers from your database who will be top performers.
Streamline Communication
Chat, push notifications, interactive message boards, and more give ambassador managers a customizable way to share content & engage with the ambassador community at scale.
Create Accountability
Assign tasks in the real world and online to all users or segments of users. Let the platform handle the tracking so your team can focus on the strategy.
Measure ROI & Scale
Real-time analytics, interactive leaderboards, customizable reports, budget tracking, and more give your team visibility into your team's impact on sales & brand awareness.